Odmładzanie skóry
Niezależnie od tego, czy jest to chemiczny peeling, dermabrazja lub zabieg laserowy, każda metoda odmładzania skóry zapewni pacjetowi satysfakcję, jeśli przeprowadzona zostanie przez doświadczonego lekarza.
W celu uzyskanie kompletnych informacji na temat wykonywanych zabiegów prosimy o wejście na stronę "COSMETIC PROCEDURES"

Tak jak przy każdej metodzie leczenia, należy najpierw dokładnie rozważyć wszystkie za i przeciw , w zalezności od stanu zdrowia pacjenta i rodzju technologii laserowej używanej przez doktora.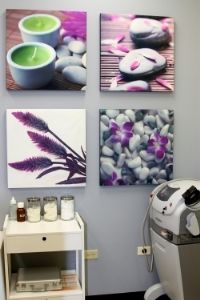 Zmiany naczyniowe
Łagodne zmiany naczyniowe są to powiększone, wytworzone w nadmiernej ilości naczynia krwionośne , które widać na powierzchni skóry jako plamy, kropki, wybrzuszenia i pajęczynki. Stojąca krew powoduje rozciągnięcie się i zniekształcanie ścian żył. Najczęściej spotykanymi należą znamiona wrodzone, naczyniaki krwionośne, rozszerzone naczynia włosowate i poikilodermia.
Zmiany pigmentowe.
Łagodne zmiany pigmentowe to ciemniejsze punkty lub plamy na skórze wywołane przez nadprodukcję melaniny, czyli ciemny pigment w skórze ( np. plamy słoneczne, plamy wątrobowe, piegi, trądzik rogowaciejący). Niektóre zmiany są już wrodzone, a inne rozwijają się wraz z wiekiem lub z wystawianiem się na działanie promieni słonecznych. Zmiany pigmentowe mogą być również wskazniem rozwijającego się nowotworu, z tego powodu powinny być dokładnie przebadane przez lekarza.