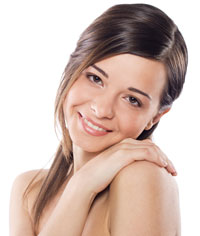 Trądzik
Szacuje się, że trądzik, powszechna i towarzysko przygnębiająca dolegliwość, dotyka ponad 50 procent nastolatków i młodych osób do 24 roku życia oraz 10 procent dorosłych osób powyżej 25 roku życia.
Pomimo tego, że nie stanowi zagrożenia dla życia, trądzik może powodować długotrwałe fizyczne i emocjonalne okaleczenia.
Przyczyną trądziku są czynniki mieszane genetyczno-hormonalne i środowiskowe.
W zależności od stopnia nasilenia i rodzaju, często wymaga długoterminowego leczenia.
Trądzik jest to zapalna choroba mieszków włosowych.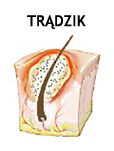 Jak dochodzi to stanu zapalnego?
Każdy mieszek zawiera mały włosek i gruczoły łojowe.
W normalnych warunkach oleista substancja wytwarzana przez gruczoły łojowe, przemieszcza się w górę do mieszka włosowego i wydalana jest na zewnętrzną powierzchnię skóry. W przypadku trądziku, zapchane pory skóry zatrzymują łój w mieszku co powoduje rozmnażanie się "P. acne" bakterii.
Trądzik najczesciej rozwija się na tych obszarach skóry, gdzie gruczoły łojowe są najsilniejsze: twarz, skóra głowy, szyja, klatka piersiowa, plecy, górne części rąk i ramiona.
Do tej pory, wiekszość lekarzy, aby zwalczyć trądzik, stosuje z różnym skutkiem preparaty do użytku zewnętrznego i doustnie przyjmowane lekarstwa.
W przypadku wielu pacjentów, tradycyjne metody leczenia, okazują się nieskuteczne i towarzyszą im negatywne skutki uboczne. Wysokie koszty i długotrwałe leczenie wpływaja na to, że wiele ogólnie dostępnych preparatów okazuje się niezadowalającym rozwiązaniem.
Instytut prowadzony przez Dr. Józefa Tryzno jest wyposażony w nowoczesne technologie, dzieki którym można skutecznie zredukować większość trądzikowych stanów zapalnych.
*Every patient is unique, therefore cosmetic results can vary between patients. No two laser treatments will get same results – even if performed by same physician on patients with similar conditions.