Normal, Atypical and Malignant Nevus
Raised or flat, pigmented skin moles or nevus ("melanocytic nevi") develop as a result of melanocytes growing in groups, and can appear anywhere on your body.
Melanocytic nevi may be congenital (usually present at birth) or acquired (develop over a lifetime)
While congenital melanocytic nevi are mostly considered benign, acquired melanocytic nevi can further evolve and cause potential trouble.
Atypical or Dysplastic Melanocytic Nevus is the term use for moles that evolved, and show mild, moderate or severe architectural disorder and/or cytologic atypia on histopathology examination of collected tissues under the microscope.
Dysplastic Nevi (DN) are considered in-between acquired melanocytic nevi and melanoma
Patients diagnosed with dysplastic nevi are at greater risk of developing melanoma
Normal Nevus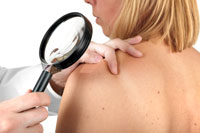 Appears after birth
Expand in proportion to body growth
Smaller than 5 mm in diameter
Evenly pigmented or symmetrically speckled tan or brown
Discrete, well-demarcated, smooth borders
Number 10 to 40; scattered over the entire body
Enlarge and increase in number during childhood and puberty
More prominent during pregnancy
Present on sun-exposed surfaces above the waist
Do not appear on the scalp, breast, and buttocks
Atypical (Dysplastic) Nevus
Intermediate between acquired moles and melanoma (gross and microscopic appearance)
Greater than 5 mm in diameter
Raised in the center and flat at the edges
Darkly or irregularly pigmented
Multiple shades of brown of pink
Irregular borders, with notches, fade into the surrounding skin
Single or multiple (max exceed 100)
Look very different, one from the other
Seen on sun-exposed areas—the back is the most common site
Occur below the waist and on the scalp, breast, and buttocks
A severely dysplastic nevus is indistinguishable from early melanoma.
Exam of pigmented and nonpigmented skin moles under magnification with Digital Dermatosope allows for visualization of details on skin surface, pigment distribution, texture, outline border.
With Dermatoscopy examination physician can determine the potential for malignancy of nevus. Definitive diagnosis, however requires examination collection and examination of tissue sample.

Based in initial findings, patient and family history, treatment options might include observation, skin biopsy or complete surgical removal.
It is essential that you speak with your dermatologist if you detect any of the signs of atypical or malignant lesions.
To schedule examination of suspicious skin mole contact us today.
Call: (847) 518-9999