Cosmetic Treatments
​Wrinkles, uneven pigmentation, large pores, dull complexions, unsightly birthmarks, spider veins on the face and legs, age spots, sun spots, freckles, and excess hair affect millions of people worldwide. While some may not be medical problems, many of patients would minimize the appearance of these unattractive distractions to their natural beauty.
At International Vein & Skin Institute, we not only provide, cosmetic procedures for a variety of skin conditions, we also provide over 20 years of hands on laser experience!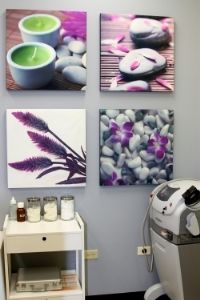 Laser Skin Resurfacing is a procedure that uses laser light to evaporate layers of damaged skin. The goal of laser resurfacing is to achieve is smoother, tighter, fresher, looking skin fewer wrinkles. In our Clinic we proudly offer several types of laser skin resurfacing.
Photorejuvenation is the visible improvement of sun damaged skin through the use of the optimal selective wavelength of laser light, or non-laser filtered broadband light. Photorejuvenation can be used on the face, arms, chest, and other large body areas, to reduce appearance of red flushing skin, uneven pigmentation and large pores and to improve dull complexions.
Dermal Fillers offer an alternative to laser resurfacing or facial surgery, not only they are convenient, but they immediately plump up specific areas, If applied correctly they can they can be used to minimize appearance of wrinkles, raise scar depressions, enhance lips.
Botulinum Toxin Cosmetic injections are used for temporary inactivation of "dynamic" wrinkles like frown lines, crow's feet. It is important to note that injections will not improve the more common "static" wrinkles that are unrelated to contractions of facial muscle.
From personalized care to the cutting-edge technology we utilize, we strive to deliver best patient experience in a safe environment without unnecessary exposure to risk of complication.
Contact our facility for guidance and to discuss your situation.