advanced Fractional Ablative Skin Resurfacing
The goal of resurfacing is to achieve smoother, younger looking skin with fewer wrinkles. iPixel ultrapulse CO2 fractional resurfacing is our signature treatment for deep, aggressive resurfacing.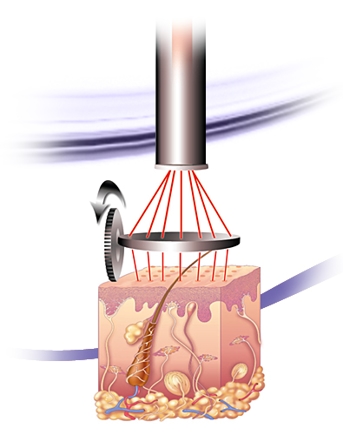 It works by creating thousands of microscopic perforations in the top layer of your skin without disturbing the surrounding tissue. This allows your skin to heal from the edge of these tiny holes very rapidly, triggering the body's natural healing process and stimulating the growth of new collagen and causing skin to tighten and scars to improve.
The iPixel Ultrapulse CO2 fractional laser is an excellent choice for moderate-to-severe wrinkles, acne scars, large pores, areas of uneven pigmentation, and other damaged skin.
Expect: a mild sunburn sensation for 1-2 hours after treatment; small points of bleeding 1-2 days after; bronzing and rapid skin peeling for 2-4 days; and pinkish, fragile skin for 5-7 days. Some patients might experience acne eruptions or milia formation due to moisturizers used after the treatment.
Recovery time will vary and can be adjusted upon your needs. It is important to let us know ahead of the treatment about any time constraints you might have. For optimal results after a single treatment, please reserve 5-7 days for your recovery.
Anesthetic: A topical anesthetic must be applied 1 hour before treatment along with single dose of OTC pain medication.
At the International Vein & Skin Institute, we are proud to offer quality skin care procedures that can be used on their own or alongside a variety of other treatments to help you achieve flawless skin. Whether you are looking to eliminate lines and wrinkles or reduce the appearance of scars and blemishes, CO2 laser treatment may be right for you.
Curious? Call and schedule your consultation today!
Call: (847) 518-9999
---
Disclaimer: Every patient is unique; therefore cosmetic results can vary between patients. No two laser treatments will get same results – even if performed by same physician on patients with similar conditions.