Fractional Non-Ablative Skin Resurfacing
Fraxel by Reliant started it all! In 2004, Fractional technology revolut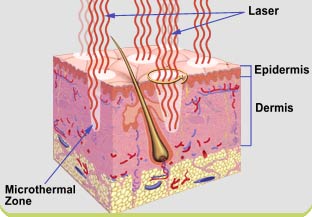 ionized industry of anti-aging, collagen remodeling and skin resurfacing. Today, Fraxel SR1500 is still a very attractive and safe option for treatment of pigmented lesions, periorbital wrinkles, acne scars, surgical scars, skin resurfacing and soft tissue coagulation.
This non-ablative fractional resurfacing device produces microscopic treatment zones, or MTZs, which coagulate tissue below the surface while leaving the epidermis intact. The undamaged surrounding layer acts as a natural bandage, promoting rapid healing and a barrier against secondary bacterial infection. In the 3-month period after the procedure, the MTZs are completely replaced by new collagen! While visible improvement in skin texture is almost immediate, your results will continue to improve in the following months.
Highlights: Fraxel SR1500 laser resurfacing treatment that can be done safely on the neck!
Indication: moderate wrinkles, melasma, pigmentation correction, skin texture correction, acne scars
Age: 30+ years old
Recovery time: 2-7 days
Recommended Treatments: 3-4 treatments, 3-4 weeks apart
Anesthetic: A topical anesthetic must be applied 1 hour before treatment.
Expect: a mild sunburn sensation for 1-2 hours after treatment; redness and swelling that usually resolves in 3-5 days; and your skin will have a pinkish tone for 5-7 days. Some patients might experience acne eruptions or milia formation due to moisturizers used after the treatment.
Our experience with Fraxel started in 2004 when Fraxel SR Reliant Technologies was approved by FDA for soft tissue coagulation. Soon after, Dr. Tryzno proudly rolled in the Fraxel SR to his clinic, among the first in the USA to embrace the new technology. In 2007, the FDA approved the new-and-improved Fraxel SR1500. That same year, the laser was brought into the clinic and has been used ever since.
Call: (847) 518-9999 to schedule your consultation with Dr Tryzno.
---
Disclaimer: Every patient is unique; therefore cosmetic results can vary between patients. No two laser treatments will get same results – even if performed by same physician on patients with similar conditions.