What are Varicose Veins?
Normal lower extremity venous structure and function
The primary function of a vein is to return blood from the peripheries of our body to the heart. Likewise, the primary function of an artery is to supply blood to our organs, thereby carrying blood from heart to our peripheries.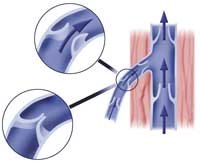 The lower extremity venous system consists of deep veins, located in the deep tissue adjacent to the calf muscles; superficial veins, closer to the surface of the skin; and perforator veins that connect the two systems. Veins fill via slow capillary inflow and are equipped with valves that open only one-way, supporting a unidirectional blood flow toward the heart.
The primary mechanisms by which venous blood is returned to the heart are the smooth muscle tone within the venous walls, the contraction of the calf muscles and the negative intrathoracic pressure created during inhalation. Contraction of the calf muscle pump is by far the most essential of the three mechanisms.
.
What causes varicose veins?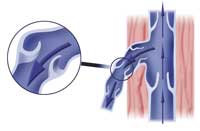 Varicose veins start to form when blood pressure is increased in part of a vein and prevents regular operation of that vein. This buildup of pressure usually comes from long periods of inactivity, inflammation of vein valves, or a continued force on the body that cuts off regular circulation(crossing your legs for too long, for instance). When enough pressure has built in one section of the vein, it causes the valves to malfunction and allow blood to flow the wrong way. This increases pressure in the next segment, causing it to malfunction the same way and propagate to further sections. A vein where this cascading effect has occurred is known as a varicose vein.