What are Varicose Veins?
Normal lower extremity venous structure and function
The primary function of any vein is to return blood from the peripheries of our body to the heart. Likewise, the primary function of any artery is to supply blood to organs of our body, thereby carrying blood from heart to our peripheries.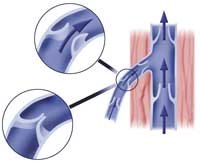 The lower extremity venous system consists of deep veins located in the deep tissue adjacent to the calf muscles, superficial veins, also known as the saphenous system, and perforator veins that connect the two systems, transporting blood from the superficial to the deep veins. Veins fill normally via slow capillary inflow and are equipped with valves that open only one-way, supporting a unidirectional blood flow toward the heart.
The primary mechanisms by which venous blood is returned to the heart are the smooth muscle tone within the venous walls, the contraction of the calf muscles and the negative intrathoracic pressure created during inhalation. Contraction of the calf muscle pump is by far the most essential of the three mechanisms.
What leads to the creation of varicose veins?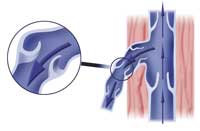 When large amounts of pressure operate for too long on the walls of the blood vessels, due to an inflammation of the vein valves, or due to a prolonged pressure of veins created by long amounts of sitting, or not enough body movement, varicose veins start to form. First the valves do not open or close correctly, later they completely lose their ability to do their function. In consequence the blood cannot flow in the right direction. As blood flows in the opposite direction (reflux) it pools, forcing the vein wall to noticeable bulge which leads to malfunctioning of valves below. This cascading effect and persistent, constant valves failure is what see as varicose veins.