Normal, Atypical and Malignant Nevi
Nevi, or moles, are skin lesions that often begin to grow in childhood, or have appeared on the skin by early adult life. Nevi may go unnoticed, or they may become a nuisance by rubbing against clothing and getting in the way of shaving.
Normal Nevi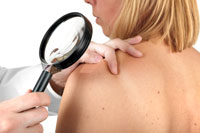 Appear 6 to 12 months after birth
Expand in proportion to body growth
Smaller than 5 mm in diameter
Evenly pigmented or symmetrically speckled tan or brown
Discrete, well-demarcated, smooth borders
Number 10 to 40; scattered over the entire body
Enlarge and increase in number during childhood and puberty
More prominent during pregnancy
Present on sun-exposed surfaces above the waist
Do not appear on the scalp, breast, and buttocks
Atypical (Dysplastic) Nevi
Intermediate between acquired moles and melanoma (gross and microscopic appearance)
Greater than 5 mm in diameter
Raised in the center and flat at the edges
Darkly or irregularly pigmented
Multiple shades of brown of pink
Irregular borders, with notches, fade into the surrounding skin
Single or multiple (max exceed 100)
Look very different, one from the other
Seen on sun-exposed areas—the back is the most common site
Occur below the waist and on the scalp, breast, and buttocks
A severely dysplastic nevus is indistinguishable from early melanoma.
Malignant Nevi
Asymmetric, irregular borders (scalloped, notched, or angular)
Mixture of variegated colors (tan, brown, pink, white, or dark black)
Pigments spread into the surrounding skin
Usually at least 5 mm in diameter (often much larger)
Abnormal surface (scaling, crusting, oozing, or bleeding)
Symptoms of itching, pain, tenderness
Surrounded by abnormal skin (erythematous, inflamed, altered pigmentation)
It is essential that you speak with your dermatologist if you detect any of the signs of atypical or malignant lesions. Digital dermatoscopy, a noninvasive method allowing evaluation of colors and microstructures nevi takes only minutes.
Visit our Mole Removal page to learn about laser assisted excisions of skin lesions.