Jozef Tryzno, MD, RVT, DABVLM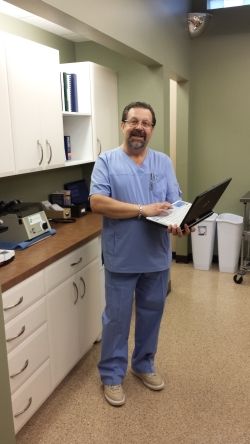 If you are looking for physician with extensive knowledge and great procedural skills look no further than founder and president of International Vein & Skin Institute, Dr. Jozef Tryzno, MD, DABVLM. Physician with unmatched skills in laser assisted excisions and destructions of various skin conditions; who has been treating patients with all types of diseases of skin, hair, nails. diagnosing and performing treatments of varicose veins since 1998.
FEW SHORT FACTS ABOUT JOZEF TRYZNO, MD
Doctor Jozef Tryzno Dr. graduated from Medical Academy in Bialystok, Poland & finished family practice residency at St Mary of Nazareth Hospital in Chicago, IL. After residency he committed to a quiet life with his wife and young children and spend 3 years working for Multispecialty Group/Gundersen Clinic in rural Wisconsin. It's where he found that following dreams and ambitions, required returning to Chicagoland.
Dr. Tryzno open his private practice office in March of 1998, and immediately fell in love with innovative laser technologies offering so many treatment options. Yes, back in a day it was "unheard of" to have a laser in a clinic 24/7. Dr. Tryzno didn't only have one, he had three lasers on premises. Within first two years his practice evolved drastically and patient services were limited strictly to medical and surgical dermatology along with venous diseases.
Dr. Tryzno was one of the first providers in USA to use VNUS closure procedures to treat varicose veins, just after its FDA approval in 1999. Soon after, Dr. Tryzno pioneered the use of endovenous laser ablation (EVLT) in the treatment of varicose veins.
Dr. Tryzno was the first in the Polish community to introduce application of innovative laser technologies in dermatology back in 1998
Dr. Tryzno is a Diplomate of the American Board of Venous and Lymphatic Medicine (formerly known as the American Board of Phlebology) and the American Board of Family Medicine,
Dr. Tryzno holds a Registered Vascular Technologist credential from the American Registry of Diagnostic Medical Sonographers, and has been recognized for his expertise numerous times.
He has also been nominated as a Fellow by the American Society for Laser Medicine and Surgery.
Dr. Jozef Tryzno is not only passionate about medicine and his practice. He is also an avid sailor which is reflected by gallery of sailboat pictures in the clinic. Along with that, he also enjoys riding on his rumbling Harley-Davidson motorcycle, a passion which he shares with his wife and children.
After years of successful medical practice, thousands of procedures and surgeries performed, we can proudly say that Dr. Jozef Tryzno, MD, DABVLM is one of the very few doctors in Illinois with long-term experience in treatment of varicose veins and use of lasers in skin surgeries and cosmetic treatments.
We are confident that you will not be disappointed if you schedule visit or procedure with Dr, Jozef Tryzno, MD
Contact our office today to get started.
Call: (847) 518-9999