Zabieg Laserem Fraxel SR1500
Laser Fraxel firmy Raliant rozpoczął rewolucję w medycynie kosmetycznej!
Jesienią 2004 roku technologia frakcyjna zrewolucjonizowała zabiegi kosmetyczne i metody laserowej regeneracji skóry. Rezultaty osiągane przy inwazyjnych metodach usuwania naskórka i po wielu wyrzeczeniach ze strony pacjenta stały się osiągalne bez długiego okresu rekonwalescencji i efektów ubocznych.
Dzisiaj pomimo dużo silnejszych laserów frakcyjnych dostępnych w naszej klinice nieablacyjny laser Fraxel SR1500 jest ciągle bardzo atrakcyjną i bezpieczną opcją w leczniu zmian pigmentowych, melazmy, zmarszczek w okolicach oczu, potrądzikowuch blizny oraz odmładzania skóry.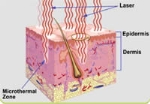 Ten nieablacyjny laser frakcyjny wykonuje w skórze objętej terapią tysiące drobnych i głębokich mikrouszkodzeń termicznych - tak zwanych stref mikrotermalnych. W każdej strefie mikrotermalnej, otaczające je komórki pozostają nietknięte i aktywnie uczestniczą w procesach szybkiej odnowy skóry.
W czasie 3 miesiecznego okresu gojenia strefy mikro uszkodzeń termicznych (MTZ Micro Termal Zones) wypelniane są nowo wyprodukowanym przez organizm kolagenem.
Pomimo iż poprawę struktóry skóry widać już od razu po zabiegu, zmiany w skórze zachodzą jeszcze przez kilka następnych miesięcy.
Fraxel SR1500 jest jedynym laserem którego można bezpiecznie użyć również na skórze szyji.
Czego należy oczekiwać po zabiegu:
Zaczerwienienia skóry oraz pieczenia przypominającego poparzenie słoneczne utrzymujące się 1-2 godziny po zabiegu
Obrzęku skóry przez około 3-5 dni po zabigu. Skóra może byż zaróżowiona przez 5-7 dni po zabiegu.
U niektórych pacjentów możliwe jest rownież pojawienie się nowych zaskórników lub pryszczy które mogą być wywołane kremem użytym po zabiegu.
Czas rekonwalescencji to około 4-7 dni.
Miejscowe znieczulenie musi być nałożone na godzinę przed zabiegiem.
Nasze doświadczenie z laserem Fraxel rozpoczęło się w 2004 roku kiedy technologia Fraxel SR firmy Reliant została zaakceptowana przez FDA (Food and Drug Administration). W krótce po tym Doktor Tryzno z dumą jako jeden z pierwszych lekarzy oferował zabiegi tym oto laserem. Dalsze ulepszania i postępy technologi doprowadziły do zaaprobowania przez FDA w 2007 kolejnego laseru z rodziny Fraxel tym razem był to Fraxel SR1500. Tego samego roku nowy laser znalazł swój dom w klinice Doktora Tryzno. Jest to nieablacyjny laser który pozwolił na glebszą penetrację skóry i leczenie głębszych zmarszczek, blizn potrądzikowych jak i również blizn pooperacyjnych.
Offerowane przez nas zabiegi są atrakcyjne cenowo oraz wykonane przez wykwalifikowangego specjalistę.
Jeśli jesteś zainteresowana/zainteresowany i chcesz zasięgnąć więcej informacji na temat oferowanych przez nas zabiegów nie zwlekaj zadzwoń i już dzisiaj umów się na wizytę w naszej klinice w Park Ridge.
*Every patient is unique, therefore cosmetic results can vary between patients. No two laser treatments will get same results – even if performed by same physician on patients with similar conditions.