Compression Sclerotherapy for Cosmetic Spider Veins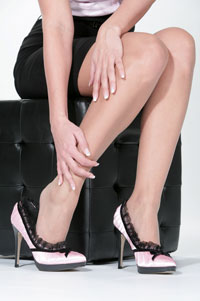 Compression sclerotherapy is the most common treatment for reticular and spider veins. Injections to surface veins are done with very thin needles that feel like mosquito bites because of the sclerosant solution that is being injected.
The number of treatments needed, will vary from patient to patient. Post-procedure bruising is quite common. Pigmentations, if they occur, fade away but might last for several months.
Is sclerotherapy right for you?
Sclerotherapy injections are highly popular among patients as they are fairly inexpensive alternative to laser treatments. Sclerotherapy injections can be done without prior diagnostic testing only if you never had been diagnosed with varicose veins and your legs are symptom free. If you feel pain in your legs or your legs get swollen after walking, prolonged sitting, or standing then there might be a chance that spider veins are result of more advance venous insufficiency.
If you have questions about this procedure, or learning if this procedure is right for you, do not hesitate to contact International Vein & Skin Institute today.